Delivery Software Suite
The most robust solution for Courier, On-Demand, Route-based, and Direct Store Deliveries.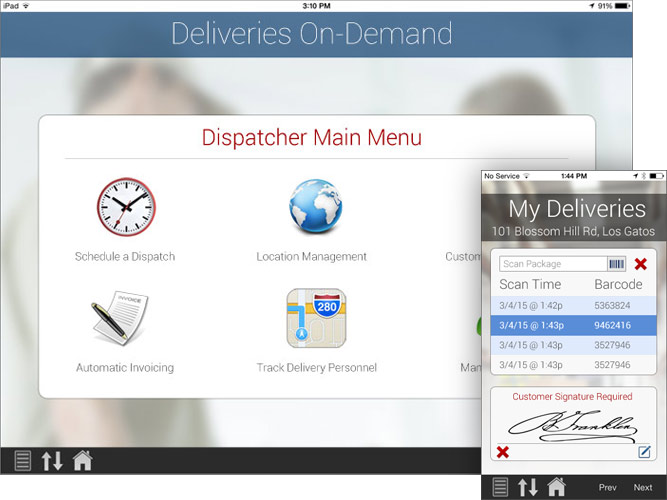 Mobile delivery software for any courier, distribution, expediting or messenger business
---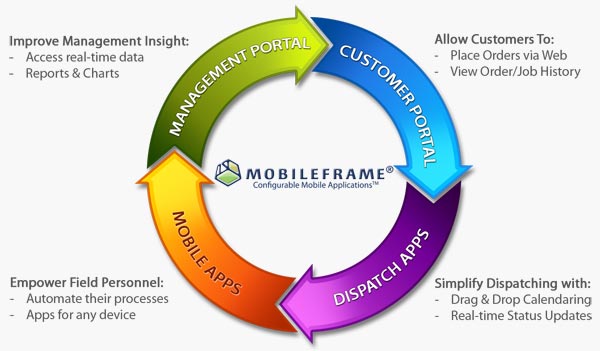 Whether your business makes route-based deliveries, on-demand deliveries, or a combination of both, our Mobile Delivery Software can help you cut costs while achieving greater customer satisfaction. Our apps are built on the MobileFrame platform, so everything is fully customizable with minimal effort.
---
Mobile delivery software for on-demand deliveries & couriers
---
Our On-Demand Delivery software streamlines everything from customer ordering, location tracking & management, scheduling & dispatch, payroll, invoicing, accounting integration and more.
With our mobile delivery software, customers can place and track orders directly on your website, your staff can dispatch to a driver's mobile device, track pickups & deliveries, and automatically generate invoices, payroll and electronic POD's all in real-time. Utilizing this system, your team of professionals will be able to handle more business with less effort.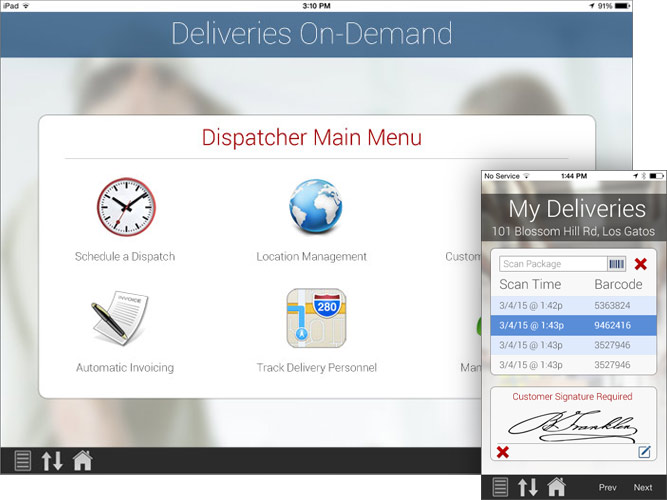 Mobile proof of delivery software & route-based deliveries
---
Missed deliveries and misrouted shipments waste time and money. Our Proof of Delivery Software provides real-time delivery confirmation (signature capture & GPS coordinates), account information and inventory tracking that enables your personnel to make speedy, accurate deliveries that improve profitability and customer service.
Perform 12% more deliveries per day and improve customer service by automating the collection and validation of delivery-related data, providing real-time customer & order information, and electronically reconciling end of day (EOD) truck inventory.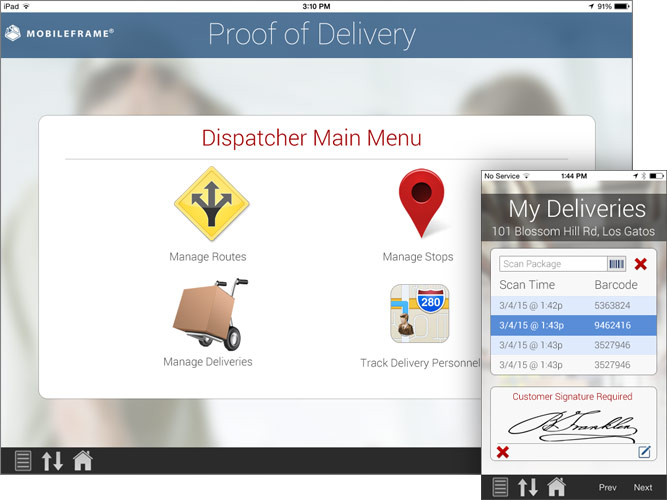 Mobile direct store delivery software (DSD software)
---
Our direct store delivery software provides everything a modern DSD business needs to thrive. In addition to the standard direct store delivery functionalities, our DSD software includes real-time alerts, the ability to take photos, driver vehicle inspections and accident reports.
Our direct store delivery software is the first in the industry to provide real-time web reporting, allowing organizations to perform up-to-the-minute trending analysis. With MobileFrame DSD software, your organization can schedule production based on real-time product sales.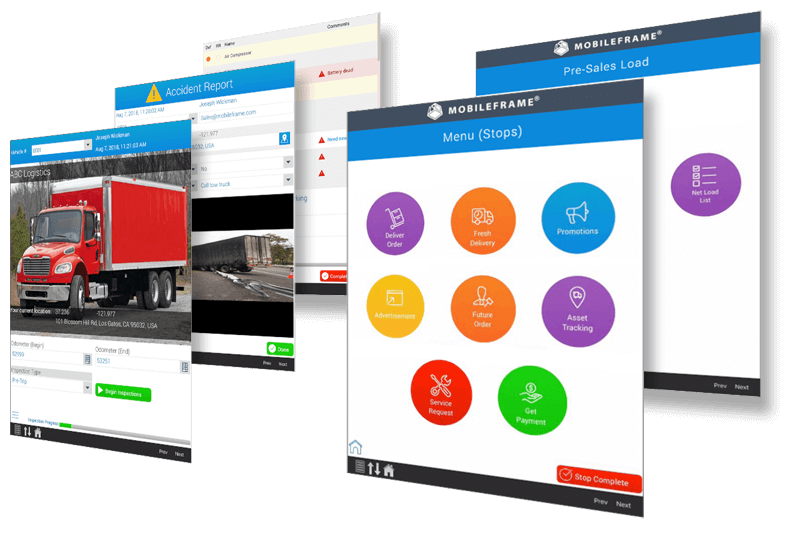 Want to learn more about our delivery software options?
We have delivery software of every type (more than we could list here!). Request a demo and one of our solution consultants will answer all your questions and give you a live demo of a solution that fits your needs.