Stay Safe & Avoid Fines with Employee Screening Apps
Our COVID-19 Employee Screening Software helps businesses return to work with more confidence: keep employees safer, keep management informed, and make data-driven decisions that keep your business operations running smoothly.

Easily Comply with Guidelines
Comply with frequently-changing CDC & OSHA guidelines to avoid expensive OSHA fines, legal liability and costly shutdowns.

Flexible & Customizable
State & local regulations vary widely. Apply differing regulations based on work-site & work-type, and easily modify screenings as regulations change. More below

Multiple Screening Options
Utilize employee self-screening, point of entry screening, or both. Ensure safe procedures while minimizing impact to your business. More below

Privacy & Security
Control your own data to avoid privacy issues, unauthorized usage & security breaches inherent to cloud-based solutions. More below

Quick & Easy Screening
Simple, intuitive user interface so screenings can be quickly completed by all of your employees to avoid point-of-entry delays.

Automatic Alerts
The system automatically notifies the employee & supervisors if an employee shows symptoms or is cleared to return to work.

Management Dashboards
Gain real-time insight. View screening results including pass/fails, incompletes, estimated return dates, etc. even before employees arrive at work.

Quick Entry Pass
Displays employee ID badge & recent pass/fail status right on their phone to show point-of-entry personnel for faster processing.

Works on Any Device
The solution is accessible from anywhere via app (Android, iOS, & Windows) or on the web to maximize user adoptions & compliance.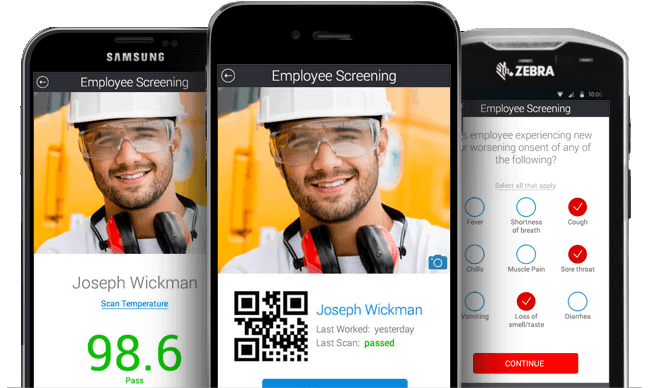 Easily & Fully
Customizable
CDC guidelines and OSHA regulations change frequently plus federal, state & local regulations vary widely from place to place and job-type to job-type. Our solution makes handling these varying requirements simple:

Smart site-based and job-based questionnaires
Regulations vary by location & work-type, our solution ensures employees go through the appropriate screenings.

Easily modify screenings as requirements change
As regulations and guidelines change over time, our software allows you to modify your existing screenings & create new ones in minutes.

Control over your data
Control what data is collected and/or stored to be consistent with your corporate policies and avoid potential privacy concerns.

Customize the look and feel
Modify the apps & web portals to use your own logos, images, colors, web address, etc.
Multiple Screening Options
Our COVID-19 Screening Software lets you adopt employee self-screenings, point-of-entry screenings, or use them both (fully-integrated) to maximize your safety & compliance.
Self-Screenings
Save time, reduce spread: have employees screen themselves before they even leave for work - so if they fail, they know to stay home (avoiding spread at the point-of-entry)
Improve validity: automatically ensures that self-screenings are completed shortly before a shift (to avoid outdated, invalid information & false passes)
Quick Entry Pass: employees can pull up their entry pass with their name, photo, QR code & recent self-screening results right on their phone to show entry-monitoring staff
User friendly: easy to complete questionnaires that are accessible from anywhere (app or web portal) ensure greater user adoption and fewer user errors
Multi-language support: employees can take screenings in the language they are most comfortable with, improving ease of use & ensuring greater response accuracy
Additional assurances: all responses are automatically date-time stamped. You can also choose to collect electronic signatures and/or location-stamps for each screening as well.
Point of Entry Screenings
Quick employee lookup: via scanning employee's ID badges (or quick entry passes), entering their employee #'s, looking them up by name, etc. Includes employee photo for improved security.
Enhanced compliance: the solution enhances and documents regulatory compliance, reducing your legal liabilities & avoiding potential fines.
Varying Regulations: easily comply with ever-changing federal, state & local regulations and CDC & OSHA guidelines.
Integrated & Automated: can reference self-screening results and prompt the user if self-screening hasn't been completed, then display those results at point-of-entry
Automatic Alerts: supervisors are automatically notified of failed screenings & employees who are returning to work so they can make appropriate arrangements.
Temperature Options: choose whether to collect & store only the pass/fail status of temperature checks (avoid HIPAA issues), the actual temperature reading, or not use temperature at all.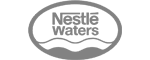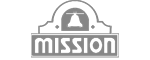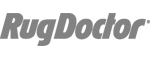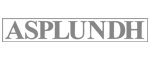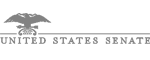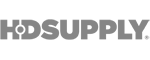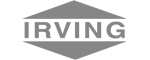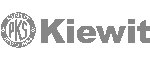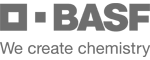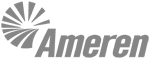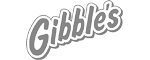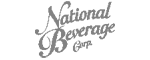 Private & Secure
Control your own data. Collect & store only the information you choose. Avoid unauthorized usage of your data - from targeted advertising to the direct resale of data, cloud-service providers often gain income from such secondary usage of customers' data without their knowledge or consent.

Keep Your Data Private
You have complete control of your data and it's stored on your own servers (or private cloud), so you don't need to worry about the unauthorized usage, privacy concerns & security breaches associated with cloud-solutions.

Enterprise-class Security
Including full FIPS (140-2 or better) encryption from end-to-end, Active-Directory/LDAP support, invisible two-factor authentication, forced logoff, remote wipe of client-side databases, and other MDM capabilities.
Simplify Management Processes
Our software is designed to reduce safety incidents, improve compliance, and boost overall operational efficiency. Web-portals & management dashboards provide real-time insights for better decision making while automatic alerts help managers & supervisors respond more quickly.

Management Dashboards
View screening results in real-time including pass/fail, incompletes, and estimated return dates or use aggregated reports & charts for better overall insight. Easily view specific departments/teams for quick decision making.

Automatic Alerts
Have the system send automatic notifications to management/supervisors if an employee fails to complete a self-screening (if required), is showing symptoms, or is about to return to work so they can plan appropriately.
How can we help you be safer?
Contact us below to start a free trial, request more information, or just see a quick demo. Whatever you need, we're ready to help.