Mobile App Development Platform Product Overview
Learn more about our mobile application development platform, features and benefits.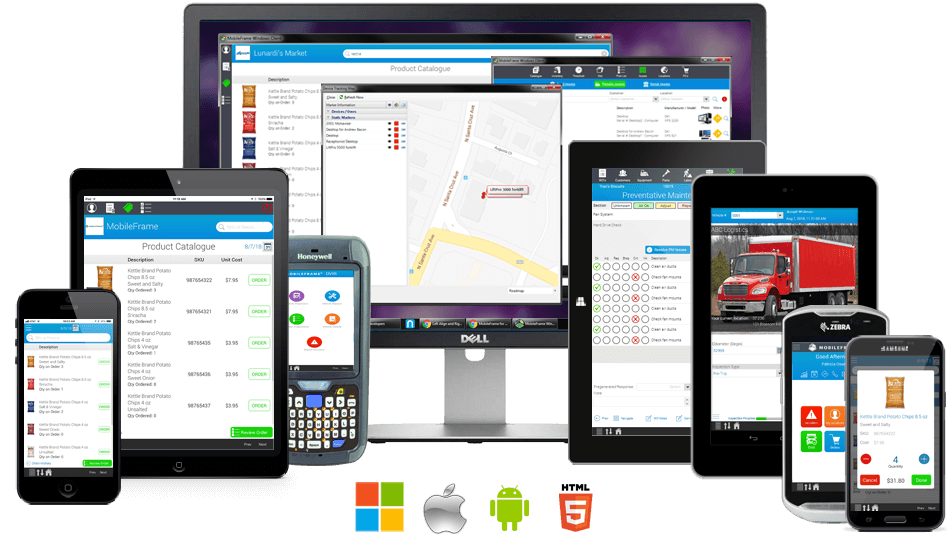 The only complete enterprise mobility solution
Our platform provides everything your business needs to bring your mobility project to life and keep it running smoothly. MobileFrame empowers enterprises to rapidly design, deploy, and manage multi-channel mobile apps (for iOS, Android & Windows-based devices).

---
Code-free mobile application development
Most platforms provide a jumbled set of "parts" for developers to cobble together with custom code, leading to time consuming and costly development projects that rarely succeed. Our code-free mobile application development platform allows businesses to develop mobile apps and business solutions tailored to their needs, in a fraction of the time required by other code-based tools.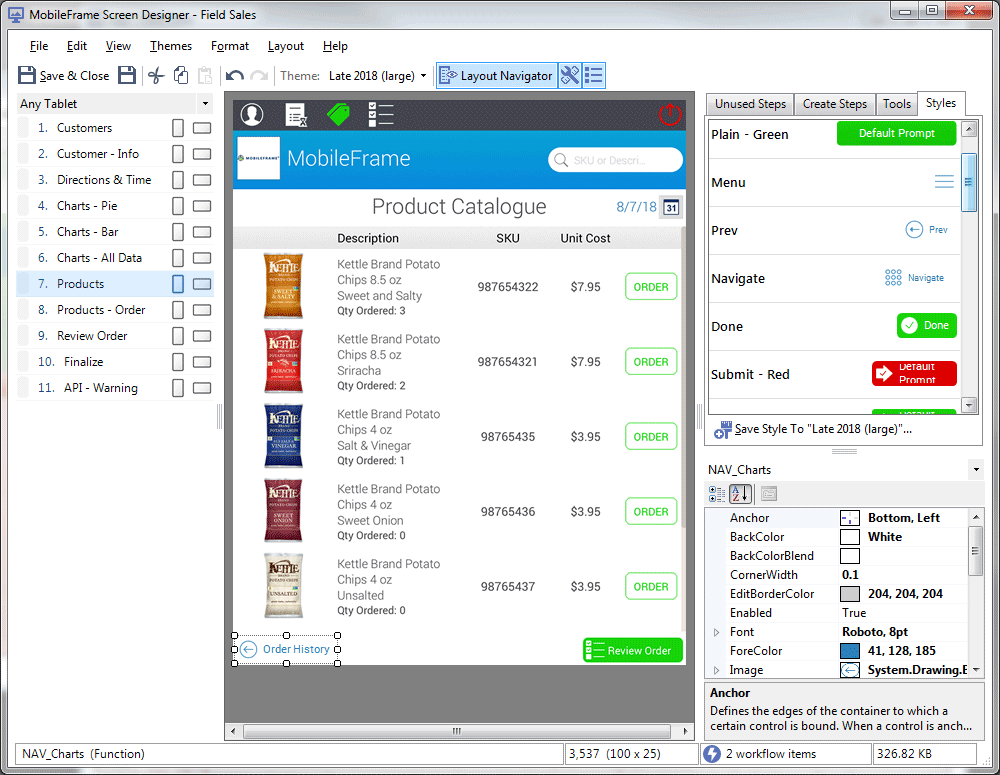 ---
Enterprise-class data & synchronization
MobileFrame supports anything from simple systems with minimal data to sophisticated systems with millions of records per device.
Truly native disconnected client database so users can work even without network connectivity. Client DB is fully encrypted & secure.
Robust database options including support for rich data types, indexes, automatic keys, SQL queries, etc. Automatic schema mirroring between server &amp client DB's.
Automatic background synchronization including continuous delta synchronization of dataset changes to clients. Sophisticated data management & distribution features.
Enterprise-grade security end-to-end
Security is critical for enterprises. Protecting your data is even more important when devices are used outside your corporate network.
Full FIPS (140-2 or better) compliant encryption of all files on the device, including the database. All client-server communications are encrypted.
Invisible two-factor authentication (patent pending), optional secondary authorization for registration to your servers, and SSL support to double-encrypt client-server communications.
User authentication via encrypted password or via Active Directory/LDAP, automatic logoff of inactive users, remote DB wipe and device lockout, & much more.
---
Fully integrated software development lifecycle support
Our platform provides complete lifecycle capabilities that allow users to design, develop, integrate, deploy and manage multi-channel apps with a single solution. MobileFrame includes rapid mobile app development tools, a graphical screen designer for perfecting your UI, an integration wizard, built-in test environment (with integrated diagnostics and debugging) to simulate a live deployment, and mobile device management capabilities that support both BYOD and enterprise-owned mobility programs.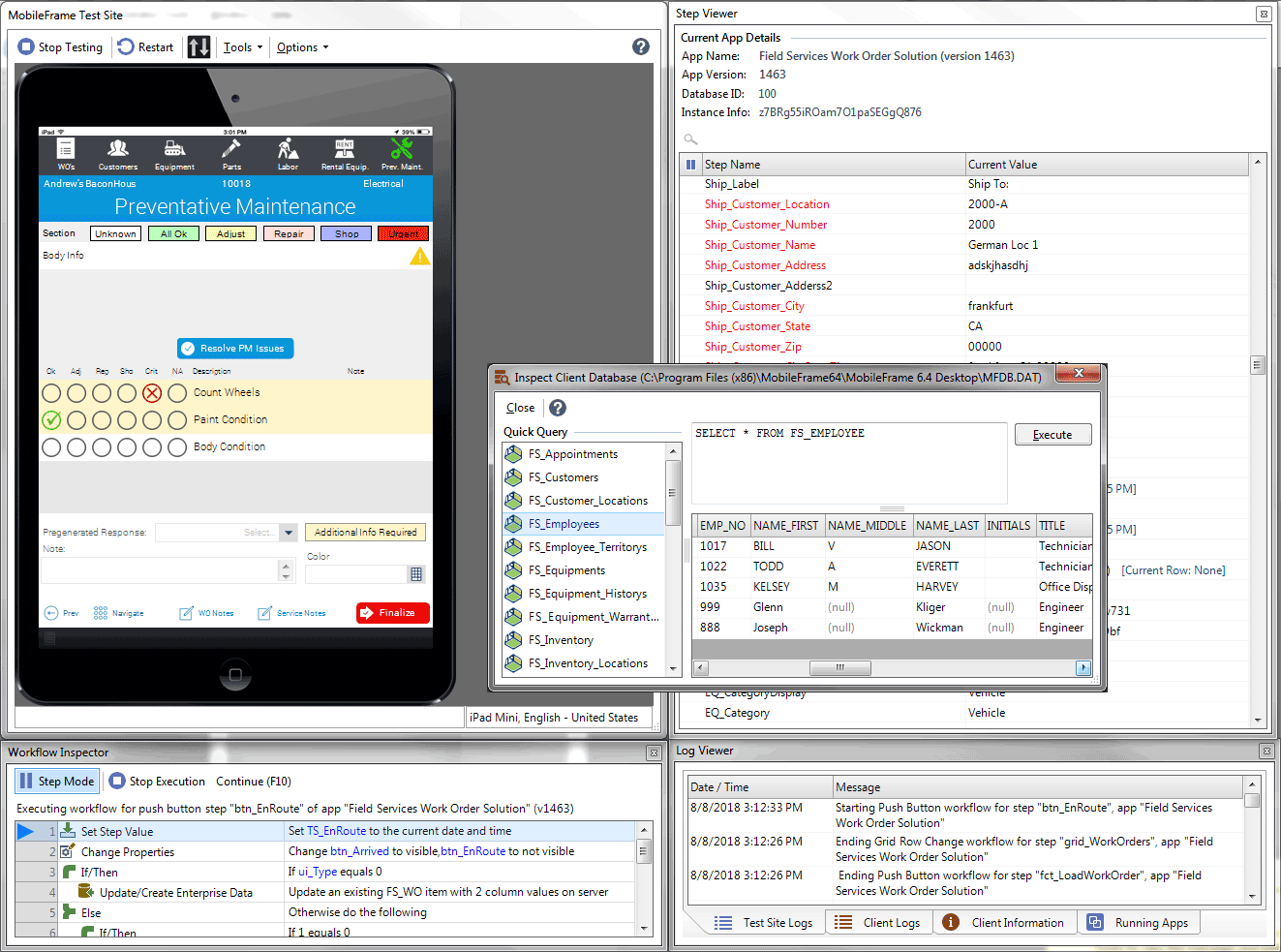 ---
Cross-platform: iOS, Android, Windows & the Web
Write once, deploy anywhere. MobileFrame empowers businesses to quickly and easily design, integrate, deploy and manage sophisticated enterprise mobile apps for iOS, Android, and Windows-based devices. With MobileFrame, your organization can create native mobile apps and feature-rich web apps in less time and with less effort than any other mobile app development tool on the market.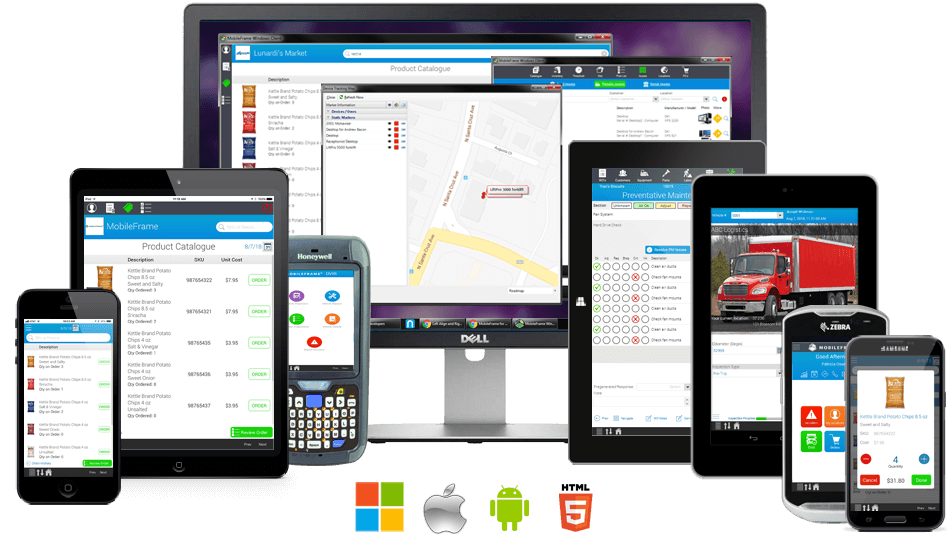 ---
Integrations. Simplified.
With most mobility projects, integrating to backend systems is a major hassle and common point of failure. With our integration wizard, you simply provide the appropriate credentials then use our point & click interface to map out the desired fields and let MobileFrame handle the complexities automatically.
We have hundreds of customers successfully integrating with:
QuickBooks
SAP R3 & Business 1
JD Edwards
Salesforce.com
Oracle
DB2
SharePoint
People Soft ERP
Microsoft Dynamics (Navision)
Great Plains
Timberline
MS Access
Silk
DIS
Carrier Logistics
Archibus
Macola
& more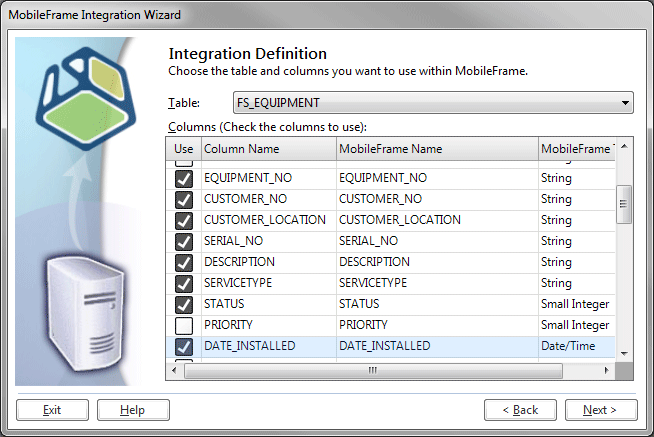 ---
Mobile device management
With MobileFrame, administrators have precise control over all devices in the field including resetting the client database, logging off a user, triggering synchronization, etc. Administrators can remotely monitor device statistics including battery life, location, memory utilization, synchronization status & more. Set rule-based actions, geo-fencing boundaries, restrict app usage, and more.
MobileFrame also integrates seamlessly with your existing Enterprise Mobility Management (EMM) solutions such as AirWatch and Citrix XenMobile.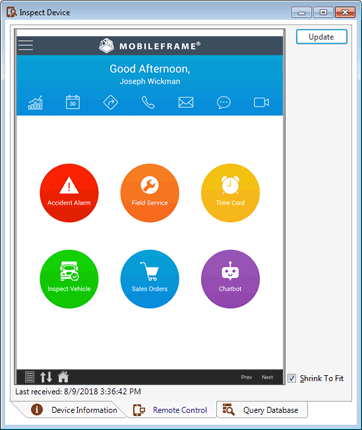 ---
Project and deployment administration
MobileFrame has comprehensive project & deployment administration built-in. Control which apps a user can access and what data they receive ensuring that you deploy the right data to the right person at the right time. Utilize sophisticated scheduling, dynamic user assignment, GPS tracking, status monitoring & more to streamline project management.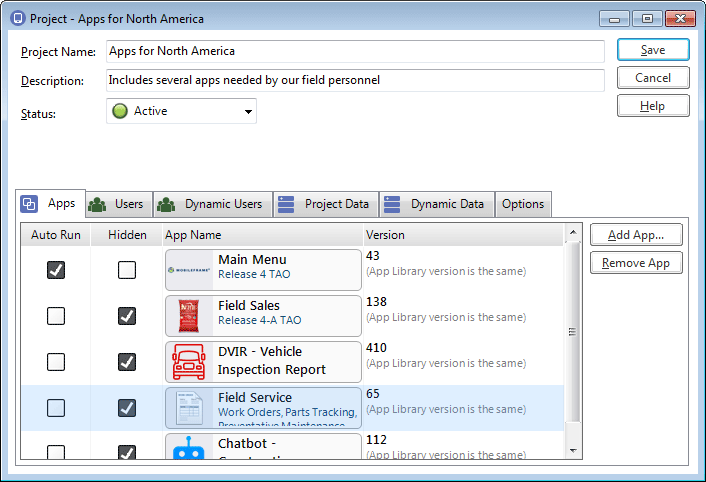 ---
Other enterprise-class features:
Built-in GPS tracking and mapping
Sarbanes-Oxley compliant instant messaging
Flexible / scalable servers to accommodate growth
Globalized, internationalized & localized mobile apps
Extensible architecture with powerful API's
Graphical app design & intelligent rendering
Worry-free updates & backwards compatibility
Advanced client & server workflow
Automatic device driver recognition & loading
Central server management with automatic load balancing
---
MobileFrame Patents:
U.S. Patent # 7,577,911 (Code-free Mobile Computing)
U.S. Patent # 7,565,381 (Smart Synchronization)
U.S. Patent # 7,730,097 (Smart Database)
U.S. Patent # 8,751,926 (Intelligent Rendering on a Mobile Computing Device)
U.S. Patent # 9,049,174 (Maintaining Sessions in Smart Thin Client)
U.S. Patent # 9,053,444 (Smart Thin Client)
U.S. Patent # 9,954,827 (Invisible Two Factor Authentication)
---
There are too many features to cover them all.
We've barely scratched the surface of what our mobile enterprise application platform has to offer. If you would like to learn more or see these features in action, request a demo and one of our experts will give you a more detailed product tour.