Mobile Proof of Delivery Software
Automated real-time routing, dispatch & proof of delivery software.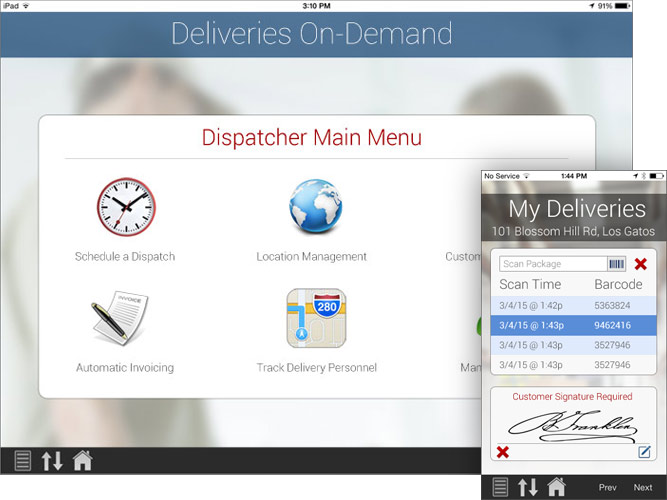 Perform 12% more deliveries / day with MobileFrame's proof of delivery software
---
Missed deliveries and misrouted shipments waste time and money. Our proof of delivery software provides real-time electronic delivery confirmation (signature capture, GPS coordinates, photos, etc.), customer account information and inventory tracking functionality that enables your personnel to make speedy, accurate deliveries. Make 12% more deliveries each day and improve customer service by automating the collection & validation of delivery-related data, providing real-time customer & order information, and electronically reconciling end-of-day (EOD) truck inventory.
Our POD software, eliminates paper costs, enhances fleet efficiency while reducing fleet overhead, and improves customer satisfaction. Save over $0.50 per delivery ($500 per truck each month) through increased efficiency, reduced paper & customer service costs, and by making real-time information available to your drivers and customers.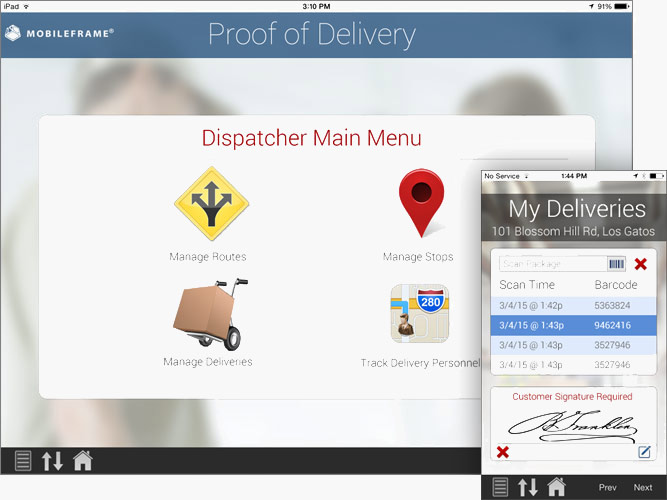 ---
Deliver more with fewer trucks
Our POD software helps organizations track items from the warehouse through delivery and streamlines deliveries, pickups & stops.
Proof of delivery software that works offline
Unlike simple cloud-based systems, our proof of delivery software works (with or without connectivity) so your drivers won't be stopped in their tracks by poor cellphone reception.
Some key features of our proof of delivery software
---
The right proof of delivery (POD) solution can drastically improve your bottom-line. Some of the key features of our POD software include:
Electronic signature & GPS coordinate capture
Our POD software allows your customers to sign for deliveries directly on the mobile device. Each signature is time-stamped and the GPS coordinates are logged as proof that the driver was in the correct location.
Works on any device
Your proof of delivery software should be flexible enough to work on any modern mobile device from smartphones (iPhone, Android, etc.) and ruggedized handhelds to tablets (iPad, Android, etc.) and laptops.
Take photos
Our proof of delivery software allows drivers to take photos of a pickup/delivery (to prove the condition it was in at the time), which will be automatically attached to the invoice. In addition, drivers can photograph any site damage or accidents.
Works offline
Our POD software uses MobileFrame's patented synchronization technology to ensure drivers always have accurate information. Unlike some cloud-based solutions, our POD software works with or without connectivity so your drivers won't be stopped in their tracks by poor cellular reception.
Easily integrates to any backend system
This solution quickly and easily integrates to any backend systems you might have including your route optimization & inventory management systems, QuickBooksTM, etc. This means you can automate payroll, replenishment, etc. in addition to customer billing.
Automatic invoicing & proof of delivery emails
MobileFrame's proof of delivery software can automatically send invoices & proof of delivery emails to the necessary contacts, including signatures and photos, which reduces billing time so you get paid sooner.
Keep track of drivers
Our GPS tracking allows dispatchers to see the status, details, and exact location (on an interactive map) of all drivers. Real-time status is provided for every driver, route, stop, and individual delivery item.
Robust charting & reporting
Utilize MobileFrame's built-in charting and reporting tools to sort and view all relevant delivery data, or integrate with your existing reporting tools.
Other benefits of MobileFrame's proof of delivery software
---
The MobileFrame Platform has almost unlimited capabilities and unmatched flexibility. The platform, combined with our POD software, adds key benefits to your delivery operations:
Automates the entire delivery cycle from manufacturing, pickup, delivery, tracking, inventory and invoicing. Tracks goods from dispatch to delivery, minimizing losses at every stage.
Provides indisputable confirmations backed by time-stamped electronic signatures, GPS coordinates & photos.
Improves timeliness and accuracy of EOD reconciliation, minimizes shrinkage & order inaccuracies, and optimizes driver productivity.
Reduces paperwork and customer service costs with automated invoicing/payroll and electronic POD.
Enhances customer service with less "lost shipments" and "damaged delivery" complaints by providing GPS tracking certification and photographic proof of delivery condition.
Manual data entry and volumes of paperwork can be replaced with efficient, error-free systems. Our integration wizard makes integrating to any backend system a breeze.
Want to learn more about our proof of delivery software?
We've barely scratched the surface of what our proof of delivery software has to offer. Request a demo and one of our solution consultants will answer all your questions and give you a live demonstration so you can see it in action.