Inventory Management Software
that improves the flow of inventory throughout your supply chain.
Our inventory management software handles your inventory, so you can focus on your business
---
Real-time inventory management across your organization
Inventory management is a crucial component of running a successful business. Just keeping enough inventory on hand, without costly overstocks or stockouts, can be the difference between running a profitable business and disaster.
MobileFrame's ready-to-run inventory management software tracks and manages the flow of inventory throughout your supply chain, helping your business maintain proper inventory levels, capitalize on sales opportunities, and eliminate out-of-stocks & back orders. All with minimal administrative effort.
Our inventory management software is designed to eliminate the hassles and headaches of managing your inventory while providing accurate data to help you make better decisions. Our solution is scalable to meet the needs of any organization and can accommodate an unlimited number of inventory items, locations, kits, thresholds, photos, etc.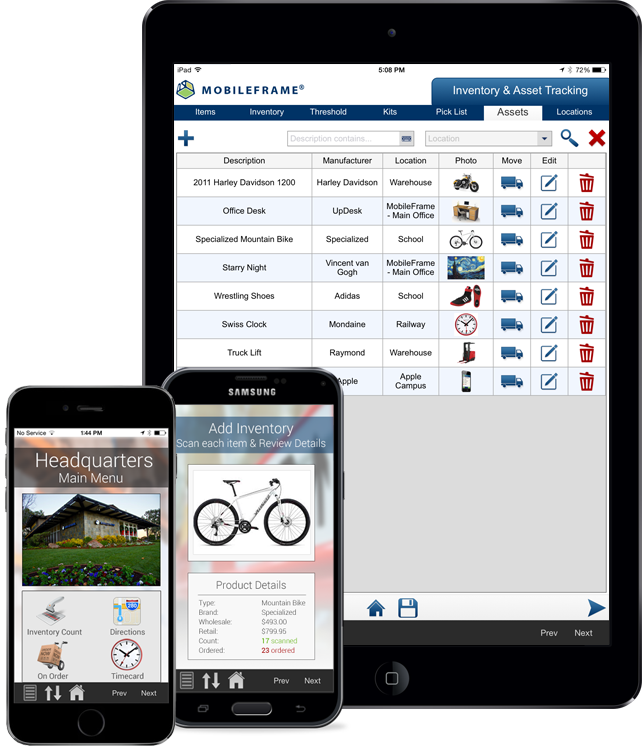 Our inventory management software is built on the MobileFrame Platform
so it's 100% customizable to suit the needs of your organization without time-consuming and expensive custom coding. Our code-free mobile application development platform enables businesses to easily create, deploy & administer additional mobile apps - allowing you to leverage your investment to automate other aspects of your business (such as time tracking, work orders, etc) at no additional cost. In fact, using MobileFrame's platform you can easily integrate to any other enterprise system (even our competitors!)
Fully integrate your inventory management software for even greater ROI
At MobileFrame, we believe in automating entire businesses to improve performance and maximize productivity. While our inventory management software works great on its own, it's also been designed to integrate seamlessly with our other solutions including our asset management and field service (work orders, repairs, preventative maintenance, etc.) software to maximize operational efficiency and provide even greater returns on investment.
Inventory management software features and benefits
---
Complete, real-time inventory management
Whether out in the field or in the office, your team will be able to easily track and manage all aspects of your inventory including parts, components, and assemblies. Track inventory by
Site
location
serial number
lot
date
pallet
bin & more
and access critical inventory data anytime, anywhere.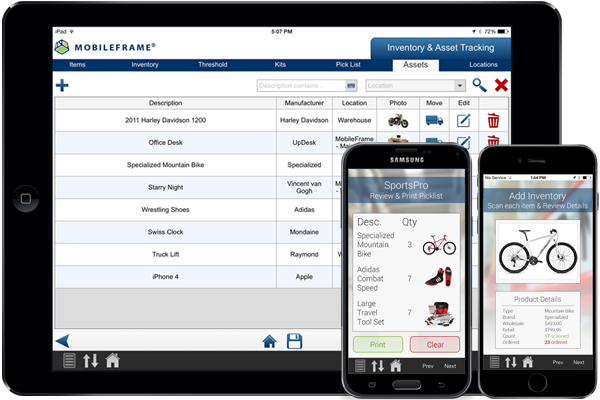 ---
Automatic reordering (thresholds), picklists & kits
Automatic reordering (thresholds) notifies you when inventory levels are low and help you make a replenishment order
Easily create barcoded picklists and have your team use a handheld device to remove picked items from inventory as they go
Improve efficiency by easily creating kits containing multiple items sold as one unit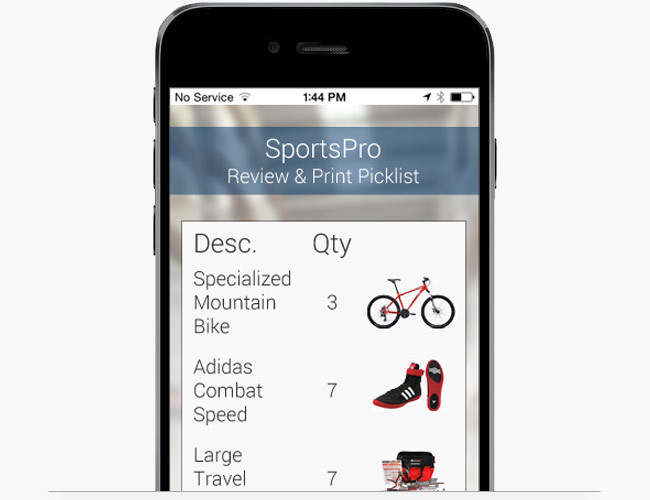 ---
Inventory audits made easy
Doing inventory audits is painful but it doesn't have to be. Utilizing handhelds with barcode, RFID, and photo-capture capabilities, your team can conduct inventory audits in a fraction of the time.
Multiple locations & stock history
Setup multiple inventory locations & sub-locations so you know exactly where your inventory is
Seamlessly transfer inventory from one location to another
Stock history reports make it easy to determine how you arrived at current inventory levels at each location
Automatic notifications & alerts
Setup custom email or instant message notifications for any action in the system including inventory transfers, low inventory or reorder alerts, order arrivals, etc. to improve decisions making speed and accuracy.
Custom data collection & reports
Our inventory management software is 100% customizable - easily add new fields including photos, files, barcodes, labels, etc. and design reports specific to your needs. Our code-free tools allow users to create custom reports using any mix of data in record time.
---
Want to learn more about our inventory management software?
We've barely scratched the surface of what our ready-to-run inventory management software has to offer. Request a demo and one of our solution consultants will answer all your questions and give you a live demonstration so you can see it in action.