The only 100% customizable
Enterprise Asset Management Software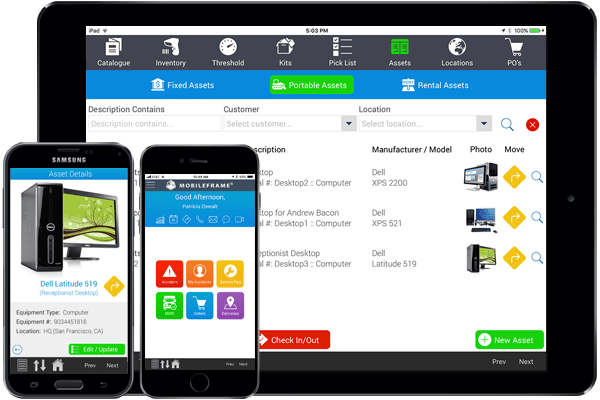 Manage asset lifecycles, optimize performance, and maximize your returns with MobileFrame's Enterprise Asset Management software
---
Smart businesses know that optimizing asset performance cuts costs and enables growth. Effectively managing the assets that are so crucial to your business success means tracking everything from software & IT assets, to vehicles, medical equipment, tools, & more. MobileFrame's enterprise asset management (EAM) software tracks all of your asset information and provides the real-time data you need to make better decisions, all from a single-source.
Enterprise asset management software that has it all
Effective enterprise asset management requires more than just tracking your assets and inventory. Our EAM software provides everything businesses need to thoroughly manage assets and optimize their performance: from detailed asset tracking, lifecycle management, and inventory counts to preventative/predictive maintenance, timekeeping, and rentals.
Our asset management software helps organizations:
Manage assets from a single platform & gain real-time visibility into asset condition
Track customer and employee check ins/outs, rentals, and more
Automate all service work including corrective (break-fix or reactionary work), preventative/predictive maintenance, & more
Schedule & deploy the right technicians for the job and ensure they have the right inventory on-hand
Keep detailed records of asset information including performance metrics, asset schedules, maintenance records & other asset history, etc.
Follow planned maintenance schedules
Ensure regulatory compliance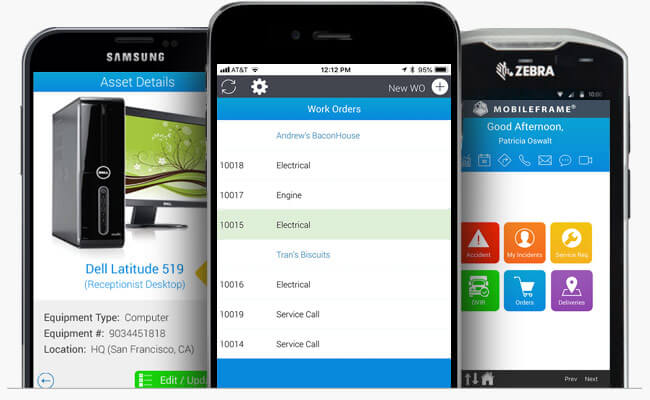 ---
Our enterprise asset management software is 100% customizable
because it's built on the MobileFrame platform. Our code-free mobile application development platform also enables businesses to easily create additional mobile apps to automate other business processes such as timekeeping, deliveries, facilities management, etc. at no additional cost.
In fact, using MobileFrame's platform you can easily integrate to any other enterprise system (even our competitors!)
Fully integrate your asset management software for even greater ROI
At MobileFrame, we believe in automating entire businesses to improve performance and maximize productivity. While our enterprise asset management software works great on its own, it's also been designed to integrate seamlessly with our other solutions including our inventory tracking and field service (work orders, repairs, preventative maintenance, etc.) software to maximize operational efficiency and provide even greater returns on investment.
Additional information about our EAM software
Additional features and benefits of our Enterprise Asset Management Software
---
Keep track of your assets
Know exactly where every asset is, where it's been, and where it's going. Our EAM software tracks critical asset information, keeps detailed asset histories & transaction logs, and schedules future asset usage. Our enterprise asset management software simplifies asset requests & deployment, ensuring approvals are obtained, entitlements are validated, chargebacks are issued, services are provisioned, and maintenance is performed.
Track any asset (furniture, equipment, vehicles, & more) by site, location, department, item number, serial number, purchase order, etc.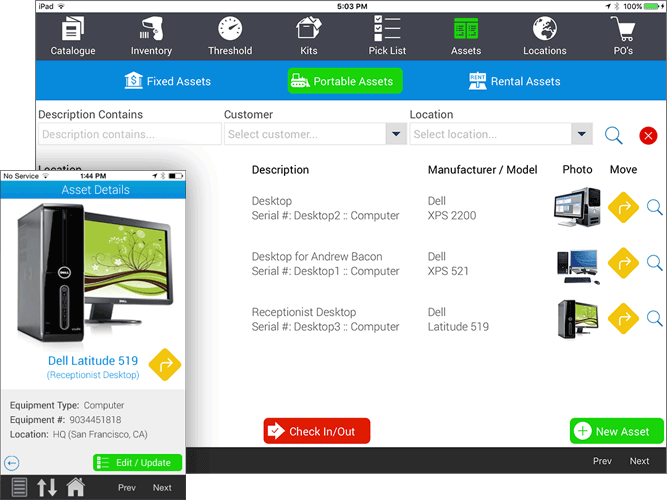 ---
Maximize useful life by ensuring proper maintenance
Schedule routine maintenance and ensure that it is properly performed and on time. Our enterprise asset management software also covers preventative & predictive maintenance, and seamlessly integrates to our Field Service Software to automate the entire maintenance process. The system sends automatic alerts for upcoming maintenance, past-due maintenance, overdue check-outs, expired items, etc.
Keeping assets well maintained & knowing when to replace them extends their useful life and eliminates unnecessary replacement costs.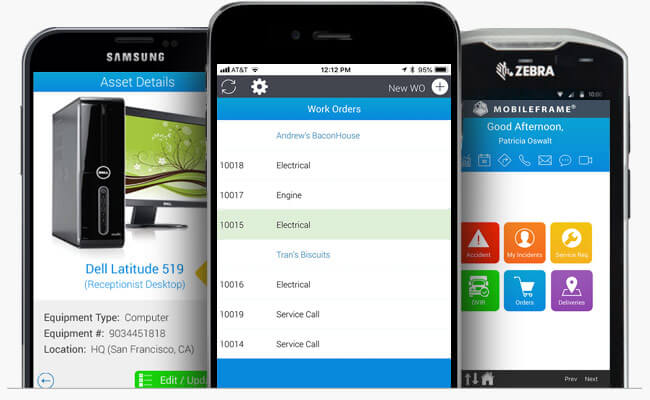 ---
Cross-platform: iOS, Android, Windows & the Web
Our Enterprise Asset Management Software is built on MobileFrame's code-free mobile application development platform so they'll run on iOS, Android, and Windows-based operating systems.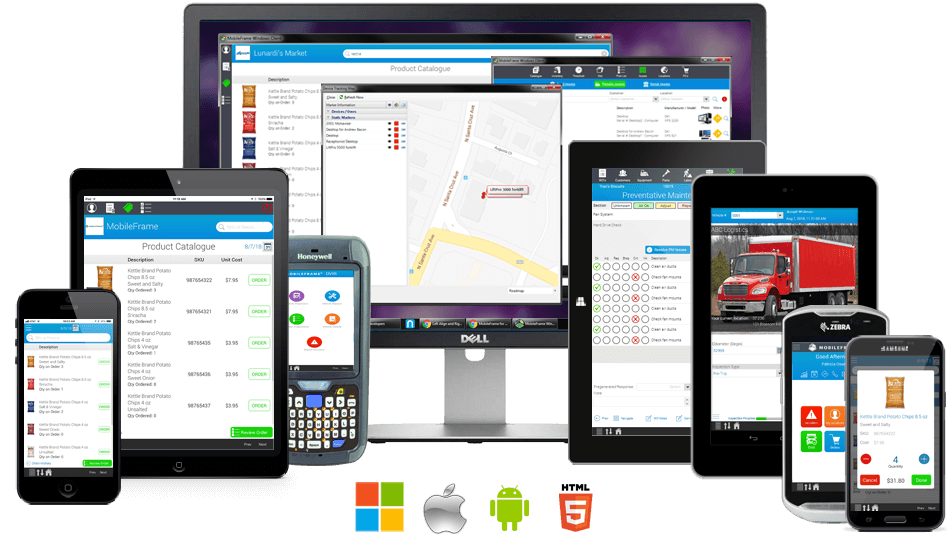 ---
Some key features of our EAM software
Operates with or without network connectivity
Integrated barcode printing & scanning
Check assets in or out to customers & employees
Integration Wizard simplifies integrations to your backend systems
Enterprise-class synchronization & military-grade security
Accommodates multiple businesses, sites, locations, etc.
Routine/scheduled, preventative, and predictive maintenance functionality
Built-in inventory management to minimize inventory costs
Additional benefits of MobileFrame EAM
50% reduction in labor and purchase processing costs
20% reduction in maintenance material costs & production downtime
Less time spent looking for lost or checked-out assets
Extends useful life of assets by scheduling and ensuring proper maintenance
5% reduction in new equipment costs by eliminating unnecessary replacements
Cut inventory levels, purchase costs, and carrying costs while increasing productivity
Easily comply with regulations & requirements
Want to learn more about our enterprise asset management software?
We've barely scratched the surface of what our EAM software has to offer. Request a demo and one of our solution consultants will answer all your questions and give you a live demonstration so you can see it in action.