Incident Management Software for All Incident Types
Build a strong safety culture & gain real-time insight into enterprise risk by streamlining your health & safety efforts, automating processes, and providing instant access to critical workplace safety information.

Assets & Property
When damage occurs, immediately capture relevant info and use it to evaluate causes & outcomes, track actions, and analyze trends to reduce future damage.

Injury / Illness
Gather, document and report on the "who, what, when, where & why" of any incident while tracking the details until completion of the incident management process.

Motor Vehicles
Easily collect all the information required for a vehicle incident as defined by your specific requirements, with photos, annotations, witness reports, etc.

Near-Misses
Improve worker safety & build your safety culture by capturing the details of any unplanned event that could result in injury or damage (but has not yet done so).

Spills & Releases
Achieve compliance and meet obligations/requirements by reporting, tracking & improving all aspects of spills, discharges or other damage to the environment.
Get more from your
Incident Management Software
Report, track, and manage incidents to reduce incident rates related to injuries, accidents, spills, near-misses and unsafe conditions.
Better Compliance & Reporting
Make decisions based on trusted data when you need it. Be ready for any planned or surprise audits. Ensure timely regulatory reporting.

Reduced TCIR Rate
Easily and accurately track the frequency of EHS injuries and illnesses over time through your Total Case Incident Rate (TCIR). Report and analyze your TCIR to help identify and implement corrective actions. Predict future incidents to stop them before they happen.

Lower DART Rate
Track and timely report your "Days Away, Restricted or Transferred" rate to determine how many workplace injuries/illnesses required employees to miss work, perform restricted work activities, or transfer to another job. Take corrective actions faster to care for employees & help them get back to work sooner.
Enhanced Management Reporting
Ensures consistent, standardized & timely reporting of incidents to improve visibility and implement corrective actions quickly. Faster reporting helps identify and eliminate associated risks, reducing incident rates & reinforcing your company's overall safety culture.

Traceable & Auditable
Eliminates disparate & paper-based systems to improve data traceability, auditability and reporting transparency. Easily capture and report on the data you need for compliance with all relevant requirements including OSHA & other regulatory agencies.

OSHA Compliance & Reporting
Effortlessly record, track and generate OSHA-ready reports for work-related injuries & illnesses. Complete OSHA 300, 300A & 301 incident reporting forms then electronically submit them to OSHA to ensure timely reporting and minimize paperwork.
Enhance Your Safety Culture
Engage your employees by keeping safety simple, removing employee safety roadblocks, and automating safety tasks & activities.

A Single Platform
Track & manage incidents, investigations and corrective actions all in one platform. Gather info and document the "who, what, when, where and why" of an incident in a single place.

Employee Engagement
Make it easy for employees to report incidents, near-misses and unsafe conditions so employees proactively engage in your safety programs. Provide feedback and take corrective action to reduce incident rates and reinforce positive safety behavior.

Make it Simple
There are many forms, some of which are very complex. Make it simple for employees and eliminate the confusion by automating what needs to be documented, by whom and when.

Be Predictive
Use incident data to identify risks and take preventative actions — identify and eliminate safety issues before they become costly incidents.

Trusted Data
Capture consistent and accurate data in one place that can be accessed & reported easily across your entire organization.

Promote Your Safety Culture
Use the data & insights you gain from analyzing incidents to build them into your toolbox talks, training and other safety program elements.
Boost Productivity & Returns
Increase productivity and improve your bottom line. Eliminate the noise, confusion and frustration associated with paper forms and labor intensive processes.

Bottom Line Impact
Manage your exposure to liabilities, minimize losses and avoid penalties while lowering insurance premiums by improving your reporting & safety management processes.

Improve Process Efficiency
There are a lot of people and many steps involved when documenting an incident. Streamline the process and ensure consistent data capture across all incident types.

Minimize Operational Risk
Manage incidents and determine root causes to reduce workplace injuries, minimize disruptions to business, decrease lawsuits & better manage your reputation with better visibility into your incident rates.
Fully Customizable
No one knows your business like you do, that's why it's critical to have the flexibility to customize your apps to fit your unique business processes. Our Incident Management Software is built on the MobileFrame platform, so it's easy to customize & you can deploy additional apps (for any business process) anytime.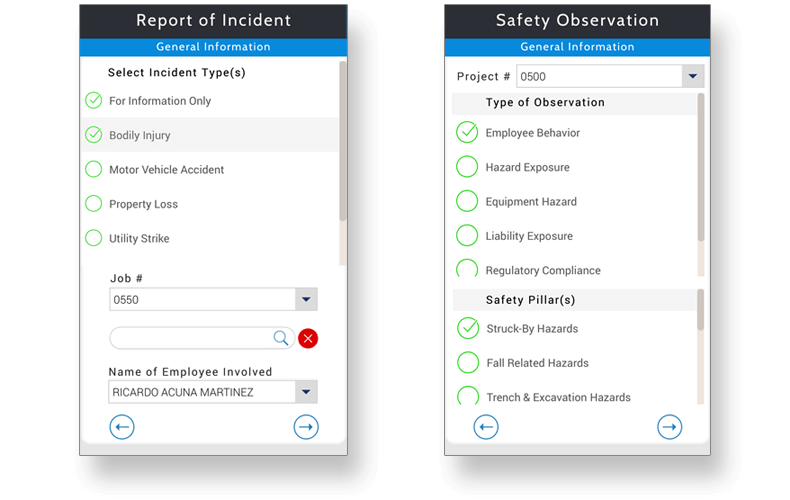 Key Features & Functionality for Your Incident Management Apps
Give your employees the ability to record & report incidents anytime, anywhere — even when offline.
Real-time Reporting
Easily capture and report injuries, spills, near-misses, and unsafe conditions. Quickly integrate into legacy reporting systems or leverage MobileFrame's reporting capabilities.
Alerts & Notifications
Define business rules to notify the right people at the right time regarding any incident. Provide stakeholders automatic alerts for the things they need to know.
Corrective Action Follow-up
Manage and track corrective actions to prevent recurrences in the future by gaining better insight & control of your overall incident patterns.
Action Items
Assign tasks and use automated workflow to ensure completion.
Analyze & Define Trends
Use trusted data to analyze incidents, trends, etc. Provide real-time incident rates (TCIR, DART) by department, location, contractor, etc.
Customizable Workflow
Automate your entire incident management workflow to meet your business's unique requirements.
Use Pictures
Take and add pictures to better demonstrate level of care or risk areas.
Capture Signatures
Build accountability into your processes by requiring signatures.
Annotate & Draw
Draw or write on any forms, pictures, etc. to provide additional documentation.
Online or Offline Access
Access the app when you need it, even without an internet connection.
Pre-Populate Data
Integrate with Active Directory & other backend systems to pre-populate names, addresses, etc.
The MobileFrame Advantage
Our incident management software is built on the MobileFrame Platform, a best-in-class no-code development platform backed by 20 years of automating companies' toughest business challenges.

Actionable Reporting
Choose the info you want to track and manage your business with built-in alerts & assigned actions.

Runs on Any Device
MobileFrame apps run on Android, iOS, Windows & the web.

Update & Release Anytime
Easily make your own changes, test then deploy them immediately... or use our professional services team.

Responsive Customer Service
MobileFrame Support is here when you need us, whatever the question or help you require.

Scalability
Add features, functionality, servers, users, etc. whenever you need them so you can grow over time.

Achieve Your Goals
There is always a way to meet your business requirements with MobileFrame's Platform.
How can we help you?
Contact us below to request a free consultation on effective strategies, see a live demo, or start a free trial. Whatever you need, we're ready to help.