The Perfect Point Home Care Software Experience
MobileFrame's Perfect Point Home Care Software and Electronic Visit Verification (EVV) is a win-win your patients, your staff & your business.

Your Patients
Improve the overall patient experience improving communications with real-time access to any plan changes, tracking any outstanding issues/requests and decreasing staff "no shows".

Your Staff
Provide your staff with one place to go to easily manage availability, accept/decline open shifts, know your schedule, close in & out of shifts, manage tasks, and record comments. Eliminate paperwork and minimize administrative costs.

Your Business
Be audit-compliant, reduce overtime costs & defend unemployment claims with better controls and more visibility into care provider assignments. Streamline operations & minimize scheduling complexity.
Meet National, State & Local Regulatory Requirements, Keep Patients Healthy & Staff Happy with Customizable Home Care Software
Provide high-quality care in the most cost-effective manner while meeting local and regional government mandates and delivering meaningful business results.

No More Paperwork
Save time charting and processing by replacing your paper documentation with real-time, trusted data capture at the point-of-care.

Increase Productivity & Reduce Costs
Streamline workflow such as mileage tracking using GPS capture to reduce administrative expense. Capture accurate data for enhanced reporting & audit capabilities.

Improve Compliance
Stop fraud before it happens by automating proof-of-visit validation & enabling faster audit responses. Accurately capture the data you need, when and how you need it.

Reduce Missed & Late Visits
Automate your care provider assignment processes, improve communications and reinforce on-time visits with notifications, real-time alerts and secured instant messaging.

Improve Quality of Patient Care
Give your care providers access to the latest client information ensuring the most recent orders are followed and your clients are well cared-for and better satisfied.

Faster Reimbursements
Going mobile ensures you get all the info you need when care is provided. Review and submit in real time taking all of the delays out of getting your reimbursement.

Easy Audits
Access the trusted data you need for audits in real-time.

Exception Notifications
Send notifications if an employee has started, strayed or ended away from their job site while clocked in.

Management Portals
Track important information including patient and staff information as well as visit activities.
Better Electronic Visit Verification (EVV) Compliance
Leverage workflow and automated submissions to comply with any reporting requirement.
Be Transformational
Transform the way you coordinate, deliver, and manage in-home and in-community services.
Be Compliant
Comply with each state's unique requirements where you deliver EVV-mandated services.
Your Workflow, Your Way
Easily configure your solution to work within your existing workflow or update based on your requirements.
Better Data Collection
Capture & validate the data you need at the point of care for better accuracy with less paperwork.
Seamless Data Transmission
Easy, timely & accurate data transmission to state aggregators.
Why Use Our Home Care Software?
MobileFrame's Perfect Point Home Care Software is a best in class solution backed by 20 years of automating companies' toughest business challenges.

Actionable Reporting
Choose the info you want to track and manage your business with built-in alerts & assigned actions.

Runs on Any Device
Perfect Point Home Care Software runs on Android, iOS, Windows & the web.

Update & Release Anytime
Easily make your own changes, test then deploy them immediately... or use our professional services team.

Responsive Customer Service
MobileFrame Support is here when you need us, whatever the question or help you require.

Scalability
Add features, functionality, servers, users, etc. whenever you need them so you can grow over time.

Achieve Your Goals
There is always a way to meet your business requirements with MobileFrame's Platform.
Fully Customizable
No one knows your business like you do, that's why it's critical to have the flexibility to customize your apps to fit your unique business processes. Perfect Point Home Care Software is built on the MobileFrame mobile app development platform, so it's easy to customize & you can deploy additional apps (for any business process) anytime.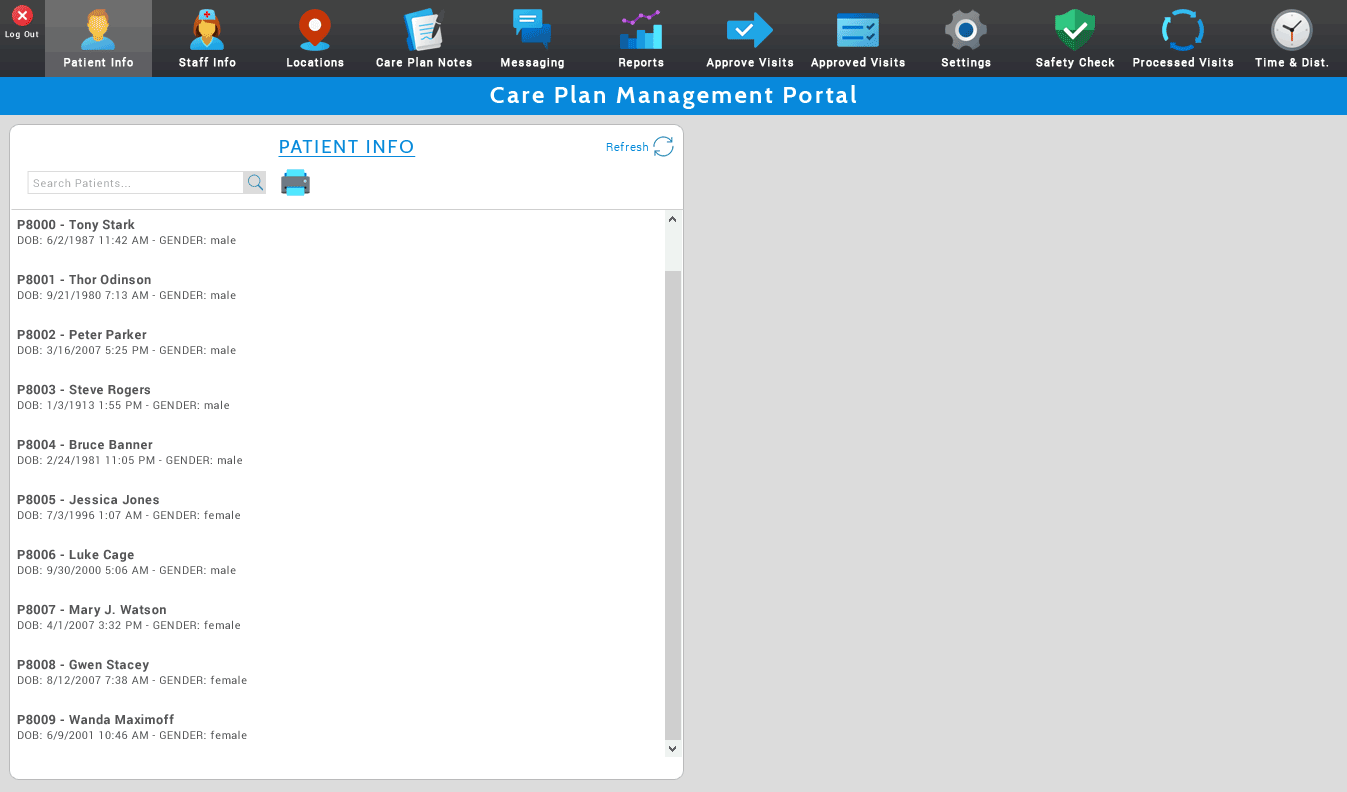 Key Features & Functionality
Optimize efficiency, maximize productivity, consistently comply with regulatory mandates & deliver exceptional service by leveraging key EVV app features.
GPS Time & Mileage Tracing
Automatically tag care locations or derive mileage including automatic clock in/out
Easy Service & Care Plan Access
Provide both service providers and coordinates with ability to access care plans on demand
Customized Dispatch Capability
View a map plotting the route staff take during their workday & be notified of any unusual staff activity
Secure Messaging
Provide secure messaging with message history logged for future reference
Real-time Scheduling
Provide staff the ability to view their schedule & care plans up to 14 days in advance
Acceptance/Denial Dispatch
Give your staff the ability to accept or deny visit assignments easily
Care Delivery Tracking & Reporting
Track activities & time associated with a specific patient care plan
Automated Workflow
Eliminate paperwork, ensure process compliance & improve service levels
Automatic Alerts
Get alerts in the event of any incident or change in patient care plan
Action Items
Assign tasks and automated workflows ensure completion
Online or Offline Access
Access the app when you need it, even without an internet connection
Real-time Reporting
Keep audits to a minimum by accessing the data you need, when you need it
Pre-populate Data
Easily integrate with other systems to pre-populate patient details, addresses, etc.
Capture Signatures
Build accountability into the process by requiring signatures
Annotate & Draw
Draw or write on any forms, pictures, etc. to provide additional documentation
Add Pictures
Add pictures to better show level of care or risk areas
Learn More About our Home Care Software
Contact us below to request a free consultation on effective strategies, see a live demo, or start a free trial. Whatever you need, we're ready to help.