Field Sales Software
to empower your sales force in the field
Our mobile field sales software gives your traveling sales reps the tools they need, when they need them most - with the customer
---
Our mobile field sales software provides instant visibility into back office sales data and information for managing your sales operations across the entire field sales chain - from the customer, sales representative, and service technician to the supplier, and beyond.
MobileFrame's mobile sales software helps you deliver the information your sales team needs, when they need it most - at the point of sale. With our field sales software, your team will spend more time with the customer and close more business out in the field, without having to return to the office to file paperwork.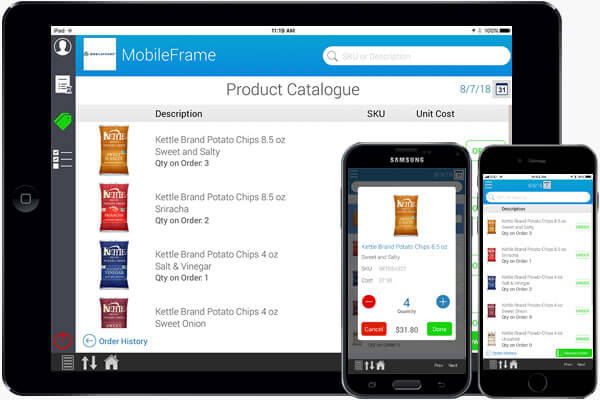 ---
Give your team the tools they need to succeed
Field sales reps are faced with increasingly complex product sales cycles and customers with high service level expectations. Customers expect instant and accurate responses to requests for custom orders, they want on-demand sales order & inventory visibility, and they demand high levels of performance from their suppliers. To deliver the performance your customers expect and maintain a competitive edge, your field sales team must be armed with the right tools and information at all times.
Our mobile field sales software helps turn every customer interaction into a revenue generating opportunity.
Key benefits of our mobile field sales software
Improve service levels and close more business by providing instant visibility into client's accounts, order status, inventory availability and delivery schedules
Provide instant insight to senior sales management to facilitate critical sales decisions making processes
Increase accuracy and provide better inventory management capabilities through real-time or batch part-level visibility
Improve your ability to deliver special orders, drive incremental revenue, and provide accurate feedback on inventory, shipping, & delivery schedules on-the-fly
Full contact data, account info, order status, history, product pricing, promotions, inventory and payment collection
Plus, our mobile sales apps are built on the MobileFrame platform, so they are 100% customizable. Our code-free platform allows organizations to easily create additional mobile apps to automate other aspects of their business (time keeping, facilities management, work orders, etc.) at no additional cost.
---
Want to learn more about our mobile field sales software?
We've barely scratched the surface of what our mobile sales software has to offer. Request a demo and one of our consultants will answer all your questions & give you a quick demo so you can see it in action.