Product Suites
We have the right mobility solutions for organizations of any size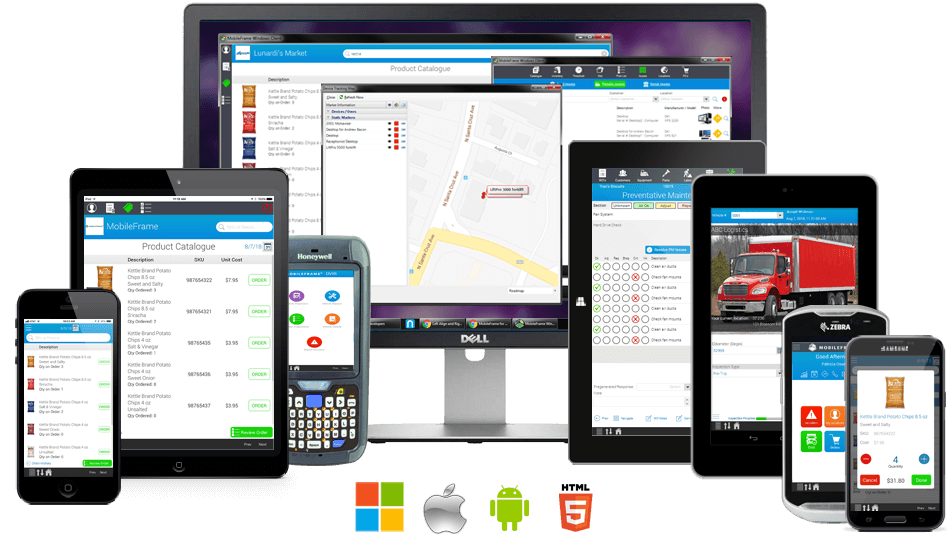 MobileFrame Product Suites
We offer 4 software suites with varying degrees of capability so businesses can select the most cost effective solutions to implement their enterprise mobility strategy. Product suites include MobileFrame Standard SuiteTM, Business SuiteTM, Enterprise SuiteTM, and Professional SeriesTM.
Standard Suite
The Standard Suite is an entry-level product that allows businesses to create sophisticated mobile apps right out of the box. Mobilize your enterprise immediately without requiring expensive or time consuming custom coding efforts so you can stay focused on what matters most, your core business.
Business Suite
The Business Suite is a full-function product for businesses that need more additional capabilities such as advanced workflow options, remote monitoring of labor-force, and the integration wizard. Our Business Suite is designed to scale across any large enterprise, allowing enterprise data to be mobilized in many different ways.
Enterprise Suite
The Enterprise Suite contains all the functionality of the Business Suite, but is designed for enterprises that require robust scalability or integration with DB2 databases.
Professional Series
The MobileFrame Professional Series is a fully self-contained promotional product that bundles all of our advanced functionality together with 5, 10, or 15 mobile client licenses so customers can trial our software at a very low cost point.
---

* Advanced Workflow Package, Remote Messaging/Monitoring & Integration Wizard may be purchased separately with the Standard Suite, but come bundled with the Business and Enterprise suites.
** Each Business or Enterprise Suite Server License allows installation of components on 2 separate server machines. MobileFrame Server components include: MobileFrame Database, Sync Server, Database Monitor, Client Monitoring Server, and Workflow Server.
Additional Information
Our Standard Suite, Business Suite, and Enterprise Suite are complete enterprise mobility platforms for creating mobile business apps that can be fully integrated with backend enterprise systems. MobileFrame enables businesses to create, deploy and manage robust mobile apps without programming or the need for complicated IT configurations.
Our Smart ArchitectureTM handles all software programming complexities in the background so they are transparent to users. The MobileFrame Client is device agnostic, allowing your business to create cross-platform mobile apps for iOS, Android, Windows & the web seamlessly and simultaneously.
Results captured by the mobile devices can be viewed in the MobileFrame Desktop and integrated with existing backend systems. The Smart Client software (iOS, Android, Windows) includes a disconnected client database, allowing your work force to continue operations whether or not they have network connectivity - then automatically sync when connectivity becomes available.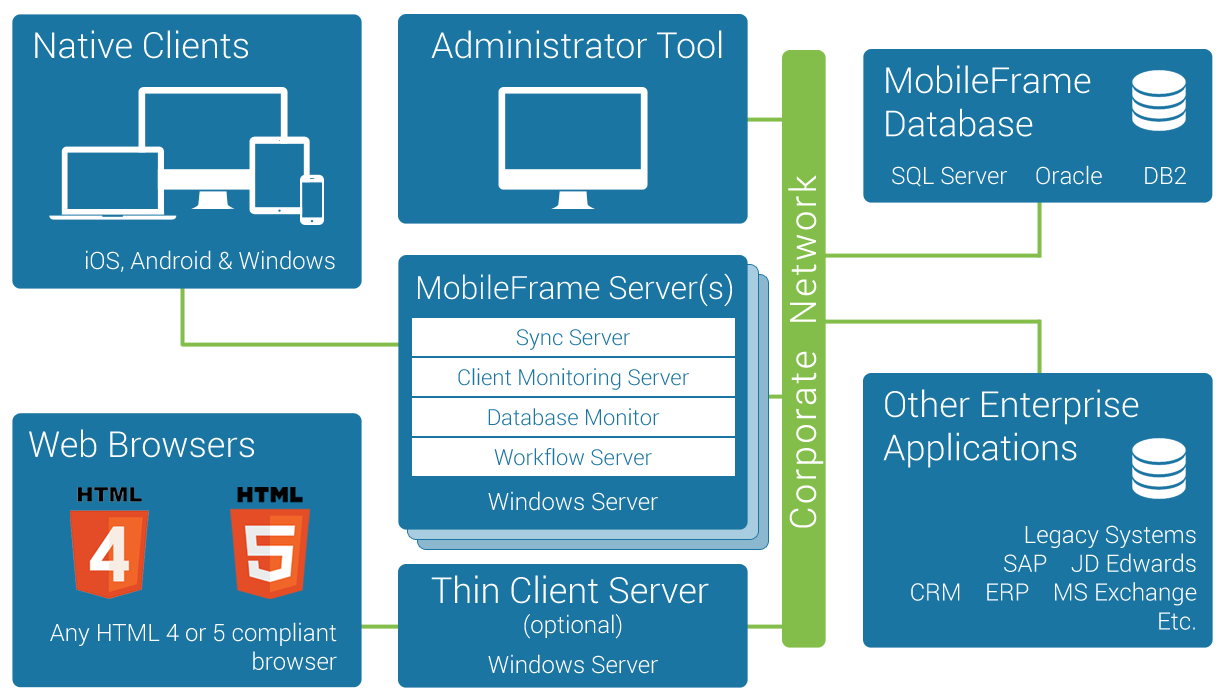 ---
Need help selecting the right solution for your business?
Request more information and we'll have one of our mobility experts contact you: they'll answer your questions, determine your needs, and help you identify the best solution for your business.