RFID Tracking Software
for every business need
Utilize RFID tracking technology to improve processes, reduce labor resources, and better respond to business challenges
---
MobileFrame has a variety of RFID tracking software to meet the needs of any organization, from supply chain services to retail to manufacturing.
Our RFID software empowers our customers to make better business decisions based on cross-functional collaboration with real-time supply chain information visibility. MobileFrame's RFID software provides the insight organizations need to improve processes, reduce labor resources, and better respond to competitive challenges & customer needs.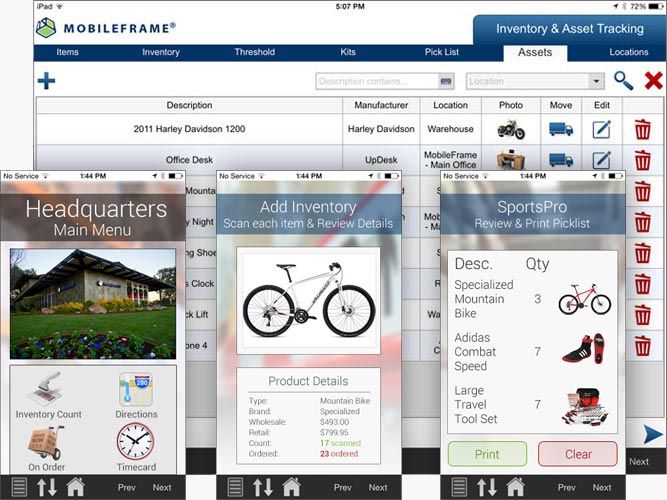 ---
Benefits of our RFID tracking software
Reduce out-of-stocks & eliminate overstocking
Provide accurate real-time data
Improve business processes, responsiveness & performance
Reduce inventory shrinkage, control costs, manage inventory & anticipate needs
Improve productivity and supply chain efficiencies
Identify inefficiencies & new opportunities and respond quickly to changing requirements
Reduce work-in-progress inventory and accurately determine bottlenecks
It is based on the MobileFrame platform so you can easily deploy apps for other aspects of your business such as timekeeping, inspections, work orders, proof of delivery, etc.
Take advantage of robust administration features such as GPS tracking, remote device management, automatic updates & simplified integrations to your backend systems
---
RFID tracking software for every business need
We offer RFID software to meet the needs of any organization, and all of our applications can be easily tailored to fit your specific business processes.
Work-in-process
Demand forecasting
Sales promotion execution
Supply chain visibility & collaboration
Industry compliance
Service management
Defect tracking
Store operations
Replenishment management
Inventory management & optimization
New product introductions
Sales reporting
Distribution visibility
Manufacturing
and much more...
Equipment effectiveness tracking
---
---
Want to learn more about our RFID tracking software?
We've barely scratched the surface of what how MobileFrame can help you implement an RFID solution. Request a demo and one of our solution consultants will answer all your questions and give you a live demonstration so you can see it in action.